If you're looking for a chilled out beach vacation or place to party, Mexico may be the perfect destination for you. Here is a list of 8 of Best party Cities in Mexico. Take your pick from these cities, party with the locals and other visitors and have your life's fun.
1.
Puebla
The catholic city Puebla, may seem like a strange choice for party destination. But in Puebla, you'll find a city full of life for party. Being both Mexico's fourth largest city and Mexico's fourth largest metropolitan area. The city also serves as one of Central Mexico's main hubs.
Puebla has a climate in the Subtropical highlands, means it rarely gets hot in Puebla.
Famous Dance Clubs & Discos in Puebla: Classico Sonata, Cuches Dance Hall & Discoteca, Tumbao Latino, Mine Night Club, 606 Speakeasy.
Things to do in Puebla
Museo Amparo
Cathedral
Zócalo de Puebla
Estrella de Puebla
Africam Safari
Puebla is also considered the "cradle of Mexican Baroque" in both architecture and decorative arts. Also, one of Mexico's five most important colonial towns.
Where to stay in this City?
2.
Tijuana
Tijuana is the largest city in both the State of Baja California and the peninsula of Baja California. If you want to do a quick road trip to Mexico, Tijuana is the best place for you. Also, it's only a two hour drive from Los Angeles.
At Tijuana, you will find the hole in the wall dive bars, tequila, & a jukeboxes that only play Mexican classics. You'll have a night you won't forget!. The climate of Tijuana is semi-arid, and generally mild to warm year-round weather.
Best Dance Clubs & Discos in Tijuana: El Alebrije, Deck22, Las Pulgas, Coko Bongo, Escape Club
Things To do In Tijuana –
Stroll Along Avenida Revolución
Visit a Traditional Market
See the Bullring by the Sea
Check out Plaza Santa Cecilia
Hit the Beaches
Where to stay in this city?
3. Playa del Carmen
Playa del Carmen is a city, in the state of Quintana Roo, Mexico, along the Caribbean Sea. If there is a party place in Mexico that you've already heard about, it's Playa del Carmen in the south. It is also a most popular tourist area in eastern Mexico.
Best Dance Clubs & Discos in Play del Carmen: Palazzo Disco, Abolengo, La Santanera, Mandala, Rakata Playa del Carmen
It was also the destination of PGA Tour golf tournaments, as well as the set location for various TV shows.
Things To Do In Playa del Carmen:
If you are staying in a hostel, take advantage of their nights out as they can save you a lot of money on cover charges. Also, they will often organize things like free shots to make sure you have a great night.
Where to stay in Playa del Carmen:
See the travel guide https://en.wikivoyage.org/wiki/Playa_del_Carmen#Q989988
4. Guadalajara
Guadalajara is Mexico's second-largest city. However, often gets overlooked by tourists for more popular nearby places like Puerto and Guanajuato. Yet Guadalajara is a city worth visiting, owing not least to its epic party scene. Guadalajara has earned her place as one of the best city on the party map of Mexico. This is because of student population who loves to dance through the night. The nightlife of this city as vibrant and varied.
Guadalajara is Latin America's tenth largest metropolitan city. Also, a major tech hub and financial center in Latin America.
Best Dance Clubs & Discos in Guadalajara: Bar americas, El Callejon de los Rumberos, La Mutualista, Biblioteca Guadalajara, Funky Town
It has a humid subtropical climate not far from a tropical climate, with dry, warm winters and wet summers.
Things To Do in Guadalajara-
Cathedral
Hospicio Cabañas
Templo Expiatorio del Santísimo Sacramento
Palacio de Gobierno
It is also home to tequila, mariachi and charreria, the official national sport for the country.
Where to Stay in Guadalajara?
5. Puerto Vallarta
Puerto Vallarta is a resort city on the Pacific coast of Mexico, in the province of Jalisco. It's well-known for its beaches, water sports and nightlife. Its cobblestone center is home to the ornate Nuestra Señora de Guadalupe church and bars. The climate in Puerto Vallarta is typical wet and dry Tropical. The rainy season runs between mid-June and October, with much of the rain in July and September.
Best Dance Clubs & Discos in Puerto Vallarta: Zoo Bar, Mandala Puerto Vallarta, Senor Frog's, Xtine, Collage, La Santa Vallarta, Biblioteca Puerto Vallarta
Things to Do in Puerto Vallarta-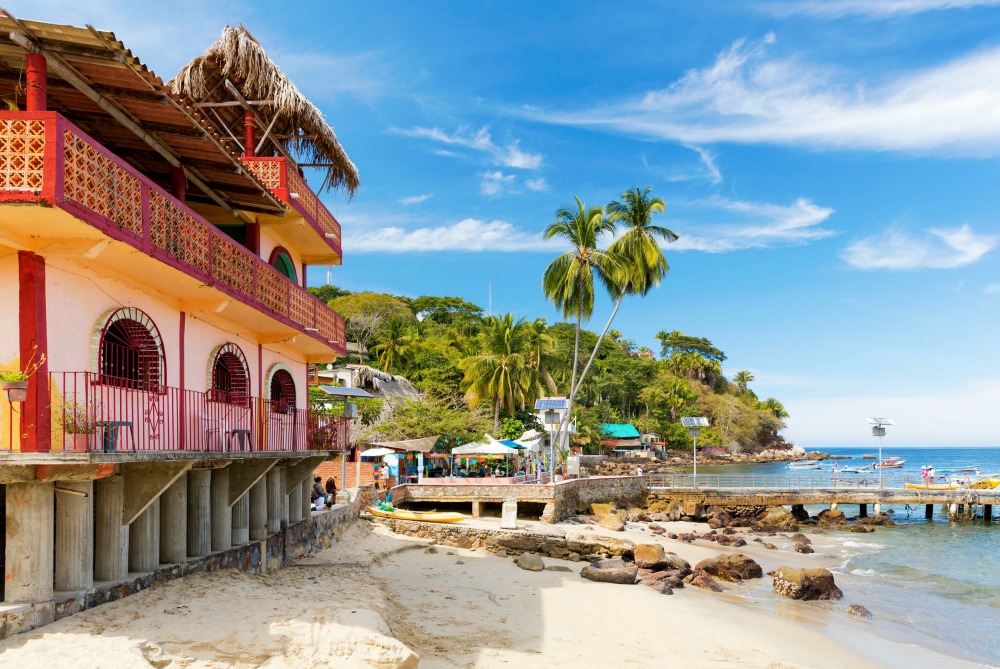 Malecón
Zona Romántica
Isla Cuale
Puerto Vallarta Whale Watching Tours
Bucerías
Los Arcos and El Malecón
If you have time, plan on spending in Vallarta's Gardens or in Bucerías' northern seaside town.
Where to Stay in Puerto Vallarta?
Official guide:https://visitpuertovallarta.com/
6. Cancun
Cancún is well renowned for its beaches, many resorts and night-life. It consists of two distinct areas: the more traditional downtown area, El Centro and Zona Hotelera. It is also a famous destination for students during the break period of universities.
Best Dance Clubs & Discos in Cancun: Coco Bongo Cancun, AMMA Club, Congo Bar, The City Discotheque, HRoof, Xacur Shuttle
Cancun has a tropical climate, a warm and humid tropical climate, with a distinct rainy and dry season.
Things to Do in Cancun-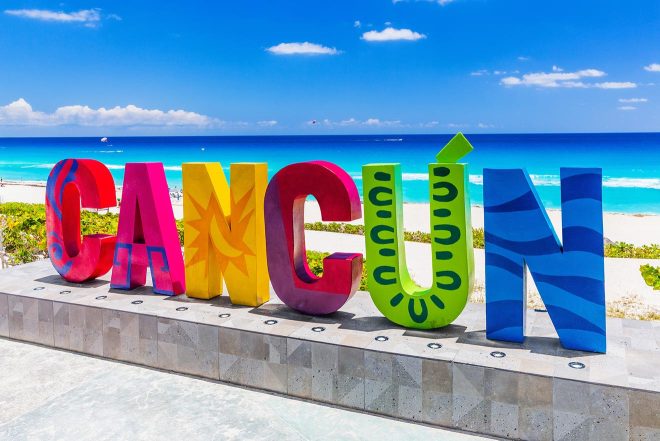 Go Snorkelling
Visit Chichen Itza
Visit Tulum
Go Paddleboarding
If you're in the mood for a luxurious travel experience than Cancun is the best place to be.
Where to Stay In Cancun?
7. Acapulco
Acapulco, a beach resort town on the Pacific coast of Mexico, is set on a huge, high-rise bay and the mountains. It offers a varied tourist offer, excitement, fun and the distinguishing Mexican authenticity. This city can be good choice among the party cities in Mexico.
The Acapulco lies on 18 m above sea level and has a tropical climate. The summers have much more rainfall as compared to winter.
Things to do in Acapulco-
La Quebrada
Fuerte San Diego
Taxco
Majahua Beach
Acapulco Botanical Gardens
Whether you're making a short stop or planning to stay in the city for a while, there's plenty to do in Acapulco throughout the year.
Where to Stay in Acapulco?
8. Mexico City
Mexico City is the capital and biggest city of Mexico and North America's most populous city. It has a subtropical highland climate due to its tropical location. Snow falls very rarely in the city, but a little more frequently in nearby mountain tops. For many foreign tourists Mexico City is a destination. Mexico City's most recognizable icon is the golden Angel of Independence on the wide. Also, It is among the best party cities in Mexico.
Things to do in:
Xochimilco and the Trajineras
Catedral Metropolitana
Museo Soumaya
Casa Azul
Where to stay in Mexico City?
Some more party cities in Mexico: Los Cabos, Querétaro, Carmen Beach, San Miguel de Allende